As a hearse drove underneath an American flag near Wantagh Station 2 on July 5, members of the Wantagh Fire Department performed one final salute to bid farewell to a longtime firefighter.

Later that day, former Wantagh Fire Department chaplain John Kwasnik, 84, would be laid to rest at St. Charles Cemetery on Wellwood Avenue in East Farmingdale. Services were held prior at O'Shea Funeral Home in Wantagh.
John Kwasnik, of Levittown, died on July 1. He was a 42-year member of the department.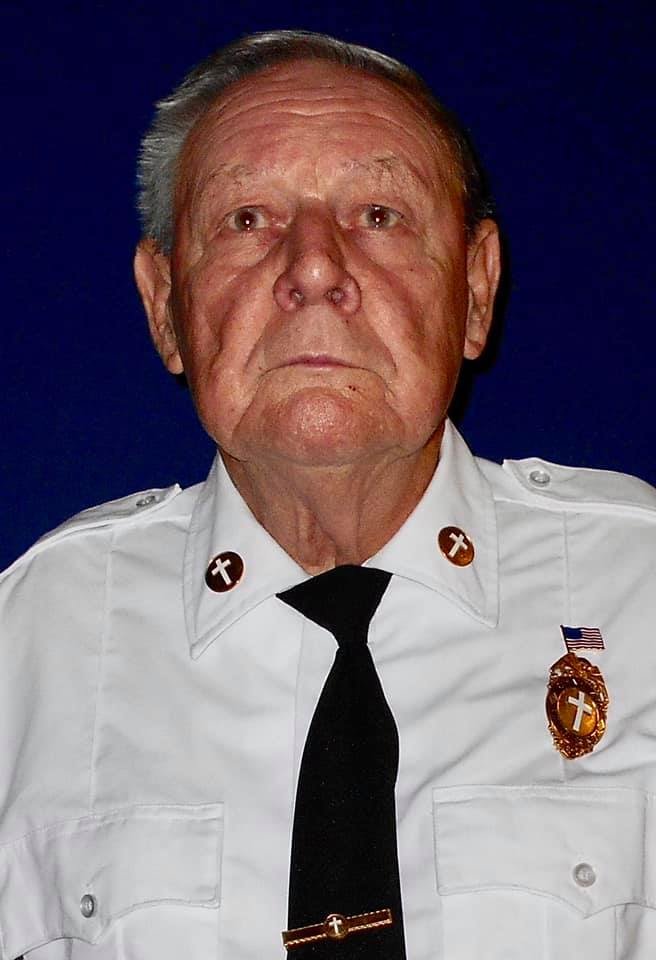 John's wife Jacqueline, 84, said their "meet-cute" was at a local park in Williamsburg, Brooklyn, when they were both 15. Although she was with another man, Jacqueline said she was drawn to John.
"He was a good-looking guy and we got along very well," Jacqueline said. "We went to the movies nearly every night – I don't know how I ever graduated high school."
Just one year after she graduated from a high school in Brooklyn, they married in 1955. Together, they had eight children, many of whom still live on Long Island, as close as Massapequa, Jacqueline said.
After the couple found an apartment in Williamsburg, John joined the United States Marine Corps at age 18. Jacqueline said he always wanted to serve the country; he was "very ambitious."
"It seemed he liked uniforms — he had the Marine Corps. uniform, the police uniform, the fire department uniform," she said.
At age 26, John joined the New York Police Department. During his roughly 20-year tenure, he worked as an officer at 1 Police Plaza, the headquarters of the New York City Police Department. He retired from that role in 1983, Jacqueline said.
"Everyone admired the work that he did," she said.
While he was working on the security team for Sperry's, John joined the Wantagh Fire Department in 1978. About two years later, John convinced his longtime friend Paul Gruber, of Wantagh, to join the department.
"We were friends long before that, but he more or less talked me into it," Gruber, 83, said. "But I wanted to join anyway."
Gruber said he first met Kwasnik in the early 60s at a block party in Wantagh. The duo spent a lot of time together and used to make some extra money by fixing up cars at his Wantagh home.
"He was a really great friend — I'm going to miss him," Gruber said.
John served as part of Rescue 2 out of Station 2 before transferring to Ladder 2 in 1990. By 1994, John transferred to the Fire Police. He later served as Lieutenant from 2005 to 2006 and Captain from 2006 to 2008.
"When I first met him, he stood out. He was a real gentleman and made you feel welcome. He was friendly and warm," Public Information Officer Kevin Regan said.
Regan will take on John's former role as Chaplain. Regan said he believes he has "big shoes to fill", but hopes to do so "with the same gentleness, kindness and humility that [John] did."
"The best way to describe him is that he was always willing to step in and pitch in wherever he could help out," he said.
In 2009, John was elected Sgt-at Arms of Wantagh Volunteer Fire Company 2. Around that time, he served as a delegate for the Southern New York Firefighter's Association and 6th Battalion. He was also the past President of the Volunteer and Exempt Fireman's Benevolent Association of Wantagh. When he died, he was serving as Corresponding Secretary.
John was the grandfather of 8 and father of Kenneth, Corinne Terravecchia, Randolph, John C., James, Thomas, Christopher. He was predeceased by his daughter, Claudia.
As Chaplain, Kwasnik would often provide meal blessings and preside over wake services. Regan said that at a memorial service roughly three years ago, John eulogized the popular quote: "The nicest place to be is in someone's thoughts. The safest place to be is in someone's prayers, but the best place to be is in God's hands."
"He is in God's hands, and he will be missed," Regan said.