Wantagh resident Nicholas Sarnelli's bedroom is reminiscent of a curiosity shop. Nineteenth-century pipes and pocket watches are scattered across his dresser, an antique Singer sewing machine and an old box camera sit on the floor, and a book filled with yellowed newspaper clippings about World War II rests on his nightstand.
Sarnelli, 32, who lives with his father on Jerusalem Avenue, said he collects these curiosities from local flea markets and antique stores, often at marked-down prices. He has always been drawn to "all things peculiar," he said.
Some of these items, as well as many others in Sarnelli's workspace in his garage, have been or will become the subjects of his artwork: antique-style lamps, light fixtures and home decor sold through a business he calls Out of the Dark Into the Light.
Sarnelli started crafting lamps and other interior decor around Halloween 2018, after a friend showed him an image of a lamp made from a Crystal Head vodka bottle shaped like a skull. "He made one first, and then I saw it and I said, 'I can make it better,'" Sarnelli said. By that winter, he had produced several lamps using old bottles.
"He is deeply intrigued by his own work," said Nicholas's father, Baldassare Sarnelli, who's known as Benny. "He's on his own planet when he's in his garage. When he's in there, he's the happiest person in the world. He's probably produced close to 300 lamps."
The name of his business doesn't just refer to his line of work. In November 2018, Sarnelli was diagnosed with Stargardt macular dystrophy, which causes degeneration of part of the retina that is responsible for sharp vision. He can still see clearly now, he said, but he struggles to make out small words.
And the disease is incurable, his father said. It will worsen over time, and eventually lead to blindness.
Shortly after he was diagnosed, Nicholas said, he fell back into drug and alcohol addiction, which he had struggled with for 15 years. "I had a really hard time," he acknowledged.
According to a Nassau County Police Department report, he was arrested in February 2019 in connection with a robbery that had occurred three months earlier in Wantagh. He was convicted of third-degree robbery, a felony, and spent a year and five months in prison before being released earlier this year.
Prior to that, Sarnelli said, he was arrested in 2010 for armed robbery, arrested in 2015 for grand larceny, and was once arrested for possession of a controlled substance, heroin.
"I know that who I am now is completely different from who I was then," Sarnelli said. "I will never be that person again. I've had problems with alcohol and drug abuse in the past. But I cleaned myself up . . . and I turned my life from negative to positive, and I'm staying here."
As soon as he was released, he said, he turned his focus to his business. His garage became a studio, and he found solace in creating intricate art pieces. Last week he was tinkering with seven projects at the same time, some of which were special requests.
"I'm basically turning my dark past and my difficulties with my eyes into the light," Sarnelli said.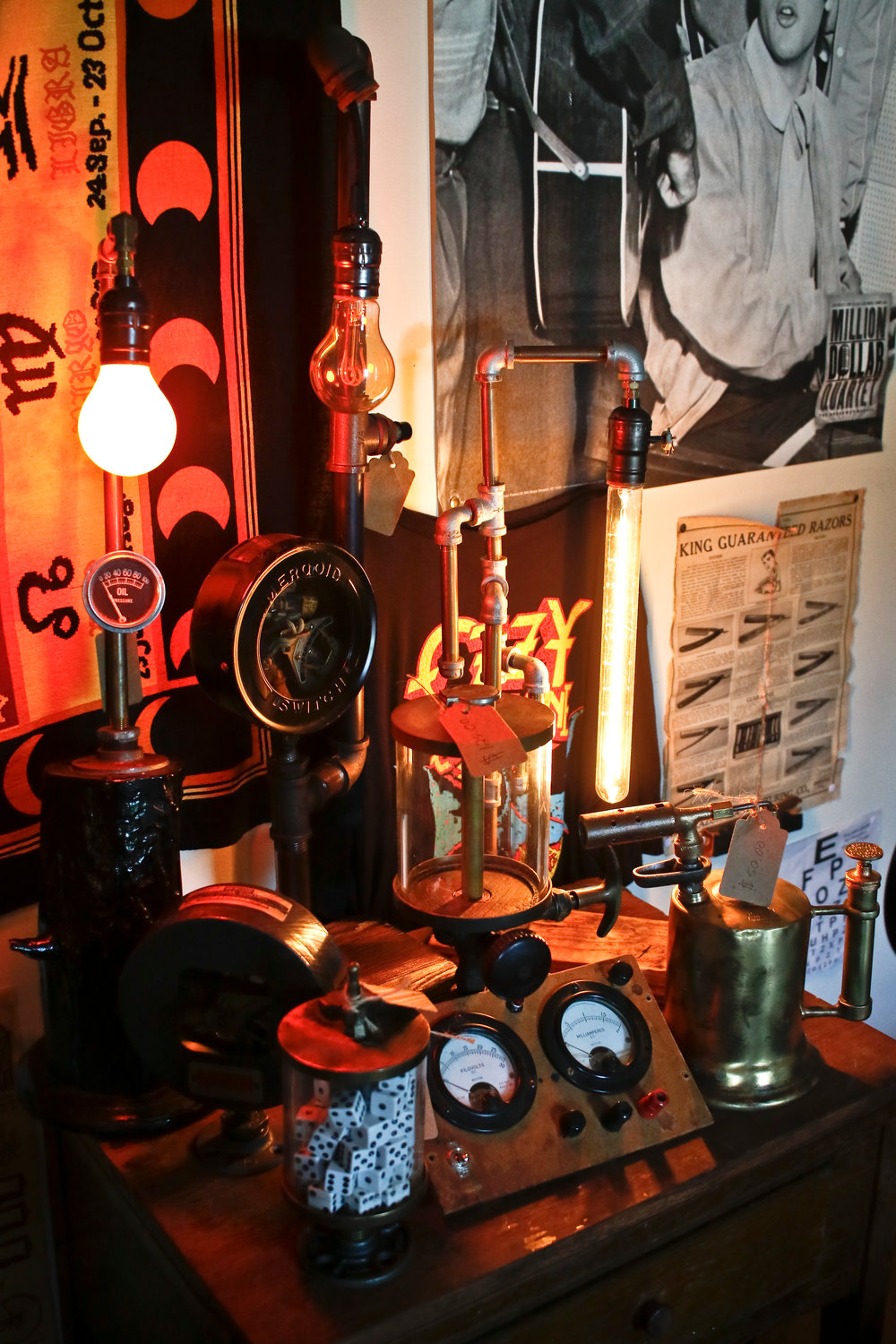 "He's always been a very creative, handsy person," said his sister Stephanie Wresch, who lives in Massapequa, "but I think he could never find an outlet [for] what he really wanted to do."
Benny Sarnelli, who helps sell his son's creations at local showcases, called Nicholas "strong" for facing all his hardships. "Just what he's been through at his age — he's incredible," he said.
Last October, Benny was diagnosed with small cell carcinoma, a type of cancer. He has a tumor in his right lung, he said. Through the chemotherapy and the emotional strain, he said, his son was there for him.
"This kid's carried me through it," Benny said. "He's been my best nurse."
Wresch, who designed the logo for her brother's business, described the style of his artwork as a mix of "farmer's industrial and steampunk." His work, she said, gives him the chance to share part of himself with the world. "He only has a short period of time in doing this, in being able to create this beautiful artwork that people can have forever," she said. "Eventually he won't be able to continue doing that. I want him to know that he has this now, he can do it now, and people can really see his artwork."
Now two years sober, Sarnelli has set up pop-up shops at local craft fairs, recently appearing in Bellmore, Long Beach and Massapequa. He said he takes pride in his work, and hopes others can learn from his experiences.
"I want people to know that whatever has happened in their past, they can still succeed," he said. "They can have a second, third or fourth chance. I've been locked up a couple times now, and I didn't think my life would be where it is at this point."
His work can be found on Instagram, at @outof_thedarkintothelight, and on TikTok, at @outofthedark369.