To upload your resume, click here. careers@liherald.com.
Career Opportunities at

Richner Communications, Inc. (RCI) is Long Island's premier multimedia company, reaching engaged, diverse audiences everywhere they live and work. We are dedicated to excellence at every turn, and are always looking for outstanding colleagues to join our team.
Our journalists deliver award-winning hyperlocal news coverage in 22 editions of Herald Community Newspapers, online at LIHerad.com, in email newsletters and across social media platforms that combined reach an audience of more than 200,000 every week.
Our marketing and sales consultants offer partners from Fortune 500 companies to local startups an unmatched range of platforms and products to help build brands and grow business, including:
Print offerings in our weekly newspapers, shoppers, coupon books and direct mail.
Digital reach via our news and lifestyle websites, targeted email marketing and programmatic advertising, branded content and social media marketing.
Webinars, podcasts, virtual and live events.
In addition, as Long Island's only publisher-printer, Richner Communications is a leading provider of commercial printing for all business needs.

We know none of this would be possible without an outstanding team. RCI is dedicated to delivering everything you deserve in a career: an ever-evolving media company with award-winning products and services, a comprehensive and generous benefits program, and a true company culture of family and values you can be proud of.

We appreciate your interest
and
invite you to explore our career opportunities below.

We currently have the following positions open:


On Long Island:
Editors and Reporters: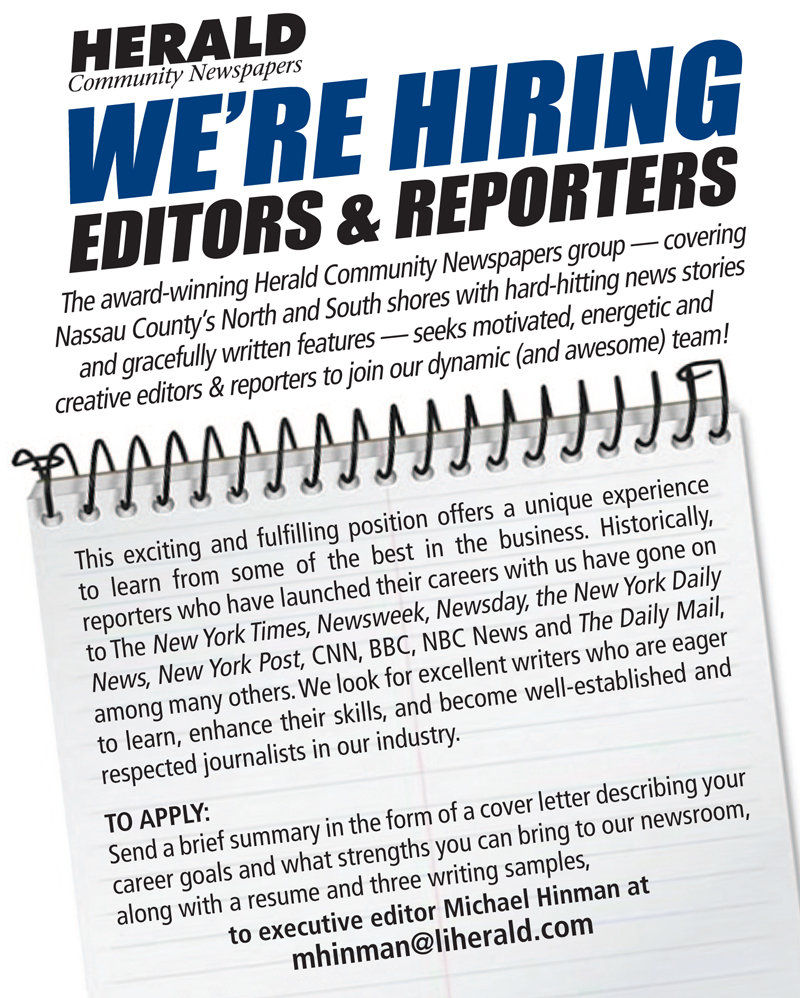 Or send cover letter and resume to mhinman@liherald.com



We are looking for experienced journalists to report for and edit newspapers covering communities along the South Shore of Nassau County, Long Island.

Qualified candidates must have the following:
• At least two years of newspaper experience in reporting and editing.
• Their own car and cell phone.
• Be willing to cover meeting and other local evening events.
• Long Island residency a strong plus.

Qualified candidates should submit a cover letter with salary requirements and resume to mhinman@liherald.com.


Sales:
Sales Management
Outside Multi Media Marketing Consultants
Digital Marketing Consultants
Direct Marketing Specialists
Inside Sales
Marketing:
Director of Audience Acquisition
Marketing Director
Art & Production:
Graphic Artists for print & web
Page Layout Artists
Online:
Director of Digital Media
Digital Marketing Consultants
Pressroom / Shipping and Receiving:
Pressman, Rolltenders, Joggers
General Helpers
Mailroom Equipment Operators
Material Handling
Shipping and Receiving
Truck Drivers
Human Resources:
Marketing Assistant
Receptionists
Qualified candidates should submit a cover letter with salary requirements and resume to careers@liherald.com.
align: center;">
In Riverdale, Bronx:

Reporters:

The Pulitzer-prize winning Riverdale Press is the jewel in the crown of one of America's most respected media companies,
Richner Communications, Inc., which serves communities from The Bronx to Nassau County.

Candidates should submit a cover letter and resume to careers@riverdalepress.com.


Sales:

Are you bright, ambitious and prepared to put your marketing training to good use? If so, Riverdale needs you.

The Riverdale Press, the community medium of the northwest Bronx, is looking for someone to help local businesses,
from mom 'n' pop stores to national chains, shape their marketing and advertising plans, in print and online.

Candidates should submit a cover letter and resume to careers@riverdalepress.com.
For information about the other positions, please contact Human Resources at careers@liherald.com.